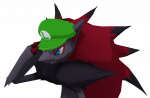 Hi everyone! Happy new year and welcome to The Sounds Resource's first update in 2023 bringing you over 570 sound submissions!
Submissions featured in this month's update includes sounds from Spider-Man, Star Fox Assault, Sonic at the Olympic Games, and Sonic Boom: Rise of Lyric from
Shiruba
, Danganronpa S: Ultimate Summer Camp and DNF Duel ripped by
Mysticus
, Tekken 7 brought to us by Markee, Plants vs. Zombies 2 from
Dierreka
, and Age Maniax ~Isumi Yon Shimai Saigo no Hi~ ripped by
Aecheritt
.
And finally, shoutouts to some of the users who've also contributed sounds in this month's update:
Cizimoof
,
DefByte
,
JJ314
,
Kairamen
,
lemurboy12
,
mnl
. And of course, everyone else I didn't mention as well.
Welp, looks like that's all I've got to say, we'll see y'all next month. Have a happy new year everyone!