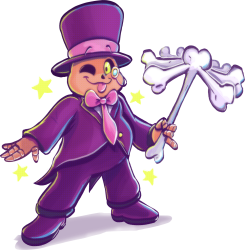 Howdy y'all! Welcome to another episode of "Name That Sound"! Today we'll be listing off all the sounds to be found in this here monthly update! They're as follows:
~An assortment of traditional pinball games by
natechico
~TONS of Digimon Rumble Arena by
Ploaj
~Like a Dino by
Scriptz
~Various Nintendo sounds by our own
Random Talking Bush
~Oh...Sir! The Insult Simulator from
garc302
~Some Touhou by
gabrielwoj
~A bunch of Backyard Wrestling 2: There Goes The Neighborhood by
Henchman800
~Some Tales of Destiny: Director's Cut by
Mysticus
~And finally, we got through a backlog of Halo 2 from
Killy728
!
Whew, I think that's it! Sorry for the barebones update, running kinda late here! See y'all next time!