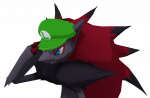 Hey everyone, DogToon64 here bringing you a brand new update with over 670 new submissions a few days before the Fourth of July!
Submissions that are featured in this month's update include:
• Tons of submissions from various games, including Star Fox 64, Dragon Ball Z: Shin Budо̄kai 1-3, Mega Man Zero 2-4, and a bunch of others from
Shiruba
• A giant batch of voices and sounds from SpongeBob SquarePants: Battle for Bikini Bottom - Rehydrated, all ripped by
Double H
• Multiple submissions from several games, which includes Neptunia: Sisters VS Sisters, SAMURAI MAIDEN, Soul Hackers 2, and several more from
Mysticus
• Various Touhou submissions among various other sounds ripped by
Random Talking Bush
• Sounds from Star Wars Episode 1: Racer brought to us by
Joker496
as well as some sounds from Star Wars: Clone Wars Adventures from
ARAJediMaster
Other shoutouts go to
lemurboy12
,
Zapp_Branniglenn
,
Noah2002
,
myself
, and everyone else I didn't mention who contributed sounds in this month's update.
Aaaaaaaand
... that's all I've got to say. Have a happy Fourth of July, we'll see you all in the next update!