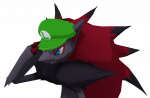 What's up, everyone! DogToon64's here again, bringing y'all a new update featuring 125 sounds.
In this month's batch of submissions, we've got:
• Voices from Mega Man Legacy Collection 2 ripped by
Shiruba
• Sounds from Donkey Kong Barrel Blast (or as Europeans call it, Donkey Kong Jet Race), FATAL FRAME / PROJECT ZERO: Mask of the Lunar Eclipse, and Atelier Ryza 3: Alchemist of the End & the Secret Key brought to us by
Mysticus
• Some Super Ledgehop: Double Laser submissions from
iggly
•
lemurboy12
and
Chopsuey621
bring us some Disney-related submissions
• And
Joker496
ripped some sounds from Chuck E. Cheese's Sports Games
Other shoutouts go to:
nyanguynary
,
dekutony
,
teh_supar_hackr
,
RandomScratcher
,
Random Talking Bush
,
Altrimos
and everyone else who's sounds were featured in this month's update.
Once again, that's all I've got to say. Have a great September, everyone! We'll see y'all in the next update!