Completing the (s)Quad!

(0)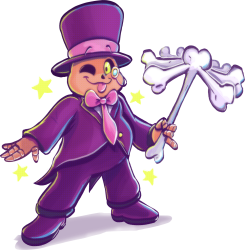 Bloop bleep it's me again, this time bringing you a an almost perfect 500 update! That's like, halfway to 1,000! How cool is that?! Not only that, but this site and The Textures Resource are the last ones to begin the new update schedule.
There's a bunch of stuff here, and I mean a BUNCH. There's Assassin's Creed, LEGO, Ultra Street Fighter IV, Cars, and lastly Zatch Bell: Mamodo Battles, courtesy of moi. But there's clearly much more than that. If I tried to list them all here, then this box would get to be about half the size of the content! ...Well, not that big, but maybe close?
Anyway, hope to see y'all next month! Be sure to check out Textures, too!
DS / DSi Sounds: 2
Dr. Mario Express
Everything
Game & Watch: Ball
Everything
GameCube Sounds: 5
Nicktoons Unite
Cosmo
Nicktoons Unite
Danny
Nicktoons Unite
Jimmy
Nicktoons Unite
SpongeBob
Nicktoons Unite
Timmy
Mobile Sounds: 2
Gunbird 2
Everything
Strikers 1999
Everything
N-Gage Sounds: 4
Monkey Ball
Announcer
Monkey Ball
Fanfares
Monkey Ball
Monkeys
Monkey Ball
Other Sound Effects
NES Sounds: 1
Kirby's Adventure
Sound Effects
Nintendo Switch Sounds: 17
Fitness Boxing
Bernard
Fitness Boxing
Bernard
Fitness Boxing
Evan
Fitness Boxing
Evan
Fitness Boxing
Laura
Fitness Boxing
Laura
Fitness Boxing
Lin
Fitness Boxing
Lin
Fitness Boxing
Martina
Fitness Boxing
Martina
Fitness Boxing
Sophie
Fitness Boxing
Sophie
Fitness Boxing
Sound Effects
Mega Man 11
Item Pickup Sound Effects
Mega Man 11
Player Sound Effects
Mega Man 11
Special Weapon Sound Effects
UNDER NIGHT IN-BIRTH Exe:Late[cl-r]
Enkidu
PC / Computer Sounds: 257 (3 hidden)
Assassin's Creed
Abbas Sofian
Assassin's Creed
Abu'l Nuquod
Assassin's Creed
Al Mualim
Assassin's Creed
Altaïr Ibn-La'Ahad
Assassin's Creed
Animus Tutor
Assassin's Creed
Combat Trainer
Assassin's Creed
Garnier de Naplouse
Assassin's Creed
Jabal (Rafiq of Acre)
Assassin's Creed
Jubair al Hakim
Assassin's Creed
Kadar
Assassin's Creed
Karn
Assassin's Creed
King Richard
Assassin's Creed
Lucy Stillman
Assassin's Creed
Malik (Rafiq of Jerusalem)
Assassin's Creed
Maria Thorpe
Assassin's Creed
Masun (Traitor of Masyaf)
Assassin's Creed
Rafiq of Damascus
Assassin's Creed
Robert de Sablé
Assassin's Creed
Sibrand
Assassin's Creed
Talal
Assassin's Creed
Tamir
Assassin's Creed
William de Montferrat
Blackhawk Striker 2
Announcer
Blackhawk Striker 2
Enemy Sound Effects
Blackhawk Striker 2
Other Sound Effects
Blackhawk Striker 2
User Interface
Blackhawk Striker 2
Vehicle Sound Effects
Brick Quest 2
Everything
Bully: Scholarship Edition
Bif Taylor
Bully: Scholarship Edition
Constantinos Brakus
Bully: Scholarship Edition
Drew (Tattooed Freak Show)
Bully: Scholarship Edition
Ethan Robinson
Bully: Scholarship Edition
Juri Karamazov
Bully: Scholarship Edition
Mr. Luntz
Bully: Scholarship Edition
Ms. Peabody
Bully: Scholarship Edition
Troy Miller
Bully: Scholarship Edition
Wade Martin
Cat Girl Without Salad: Amuse​-​Bouche
Game Over
Cat Girl Without Salad: Amuse​-​Bouche
Level 1
Cat Girl Without Salad: Amuse​-​Bouche
Level 2
Cat Girl Without Salad: Amuse​-​Bouche
Level 3
Cat Girl Without Salad: Amuse​-​Bouche
Stage Clear
Empire Earth
Asian Campaign
Empire Earth
British Campaign
Empire Earth
Future Campaign
Empire Earth
German Campaign
Empire Earth
Greek Campaign
Empire Earth
Pacific Campaign
Empire Earth
Roman Campaign
Empire Earth
Sound Effects
Empire Earth
Tutorial Campaign
Empire Earth
Units
Goosebumps Web Games
Ghost Hunt
Goosebumps Web Games
Match Wits with R. L. Stine
Goosebumps Web Games
Monster Maker
Goosebumps Web Games
Story Writer
Hitman 2: Silent Assassin
Weapon Sound Effects
Jump Force
Asta (Japanese)
Jump Force
Frieza (Japanese)
LEGO Star Wars: The Force Awakens
Combat
LEGO Star Wars: The Force Awakens
Creatures
LEGO Star Wars: The Force Awakens
Doors
LEGO Star Wars: The Force Awakens
Effects
LEGO Star Wars: The Force Awakens
Environment
LEGO Star Wars: The Force Awakens
Explosions
LEGO Star Wars: The Force Awakens
Foley
LEGO Star Wars: The Force Awakens
Footsteps
LEGO Star Wars: The Force Awakens
Impacts
LEGO Star Wars: The Force Awakens
Items
LEGO Star Wars: The Force Awakens
Lego
LEGO Star Wars: The Force Awakens
Mech
LEGO Star Wars: The Force Awakens
Minigame
LEGO Star Wars: The Force Awakens
Musical
LEGO Star Wars: The Force Awakens
Pickups
LEGO Star Wars: The Force Awakens
Promos
LEGO Star Wars: The Force Awakens
Status
LEGO Star Wars: The Force Awakens
User Interface
LEGO Star Wars: The Force Awakens
Vehicles
LEGO Star Wars: The Force Awakens
Weapons
Mega Man 11
UI
Nerf Arena Blast
Ambience
Nerf Arena Blast
Announcer
Nerf Arena Blast
Kids
Nerf Arena Blast
Miscellaneous
Nerf Arena Blast
Weapons
The Neverhood
Sound Effects
Nicktoons Winners Cup Racing
Announcer
Pokémon.com Games
Chingling's Ring Along
Pokémon.com Games
Gothita's Portrait Panic
Pokémon.com Games
Tepig's Tasty Treat Toaster
Prey
Weapon Sound Effects
Quake + Expansions
Ambience
Quake + Expansions
Armagon
Quake + Expansions
Centroid
Quake + Expansions
Chthon
Quake + Expansions
Death Knight
Quake + Expansions
Devices
Quake + Expansions
Dragon
Quake + Expansions
Electric Eel
Quake + Expansions
Enforcer
Quake + Expansions
Fiend
Quake + Expansions
Gremlin
Quake + Expansions
Grunt
Quake + Expansions
Guardian
Quake + Expansions
Items
Quake + Expansions
Knight
Quake + Expansions
Miscellaneous
Quake + Expansions
Ogre
Quake + Expansions
Quake
Quake + Expansions
Ranger
Quake + Expansions
Rotfish
Quake + Expansions
Rottweiler
Quake + Expansions
Scrag
Quake + Expansions
Shambler
Quake + Expansions
Spawn
Quake + Expansions
Statue
Quake + Expansions
Vore
Quake + Expansions
Weapons
Quake + Expansions
Wrath
Quake + Expansions
Zombie
Shrek DVD Games
Bugs 'n Slugs
Shrek DVD Games
Charming Dragon
Shrek DVD Games
Color a Scene
Shrek DVD Games
Fairy Tale Lanes
Shrek DVD Games
Fire Donkey
Shrek DVD Games
Gingerbread Hangman
Shrek DVD Games
Learn to Draw Shrek
Shrek DVD Games
Pinball
Skyworks Technologies Browser Games
2-Minute Drill
Skyworks Technologies Browser Games
Amazing Acrobats
Skyworks Technologies Browser Games
Billiards
Skyworks Technologies Browser Games
Bull's Eye Saloon
Skyworks Technologies Browser Games
Candystand Mini-Golf
Skyworks Technologies Browser Games
Cookie Barz Armored Car
Skyworks Technologies Browser Games
Cool Darts
Skyworks Technologies Browser Games
CornNuts Cornfield 5000
Skyworks Technologies Browser Games
CremeSavers Bowling
Skyworks Technologies Browser Games
CremeSavers Mixing Factory Pinball
Skyworks Technologies Browser Games
Fig Newtons Power Bike
Skyworks Technologies Browser Games
Flip the Frog
Skyworks Technologies Browser Games
LifeSavers Flavor Factory
Skyworks Technologies Browser Games
LifeSavers Kickerz Super Slalom
Skyworks Technologies Browser Games
LifeSavers Waterpark Pinball
Skyworks Technologies Browser Games
Mahjong
Skyworks Technologies Browser Games
Mini-Arcade
Skyworks Technologies Browser Games
Mini-Golf Open
Skyworks Technologies Browser Games
Mini-Mini-Golf
Skyworks Technologies Browser Games
Nabisco Team Racing
Skyworks Technologies Browser Games
Nabisco World Mini-Golf
Skyworks Technologies Browser Games
Oreo Dunk 'n Slam
Skyworks Technologies Browser Games
Reversi
Skyworks Technologies Browser Games
Ritz Chips Grand Slam Pinball
Skyworks Technologies Browser Games
Shuffle Bowling
Skyworks Technologies Browser Games
Space Adventure
Skyworks Technologies Browser Games
Triscuit 4x4
Skyworks Technologies Browser Games
Trolli Extreme Stunt Bike
Skyworks Technologies Browser Games
Trolli Gummi Grab
Skyworks Technologies Browser Games
Video Poker
Smash Frenzy 2
Everything
Solar 2
Everything
Soulcalibur VI
Amy
Steven Universe: Save the Light
Enemies
Super Collapse!
Everything
Touhou Luna Nights
Sound Effects
Ultra Street Fighter IV
Abel
Ultra Street Fighter IV
Abel
Ultra Street Fighter IV
Adon
Ultra Street Fighter IV
Adon
Ultra Street Fighter IV
Akuma
Ultra Street Fighter IV
Akuma
Ultra Street Fighter IV
Announcer
Ultra Street Fighter IV
Balrog
Ultra Street Fighter IV
Balrog
Ultra Street Fighter IV
Blanka
Ultra Street Fighter IV
Blanka
Ultra Street Fighter IV
C. Viper
Ultra Street Fighter IV
C. Viper
Ultra Street Fighter IV
Cammy
Ultra Street Fighter IV
Cammy
Ultra Street Fighter IV
Chun-Li
Ultra Street Fighter IV
Chun-Li
Ultra Street Fighter IV
Cody
Ultra Street Fighter IV
Cody
Ultra Street Fighter IV
Common Sounds
Ultra Street Fighter IV
Dan
Ultra Street Fighter IV
Dan
Ultra Street Fighter IV
Decapre
Ultra Street Fighter IV
Decapre
Ultra Street Fighter IV
Dee Jay
Ultra Street Fighter IV
Dee Jay
Ultra Street Fighter IV
Dhalsim
Ultra Street Fighter IV
Dhalsim
Ultra Street Fighter IV
Dudley
Ultra Street Fighter IV
Dudley
Ultra Street Fighter IV
E. Honda
Ultra Street Fighter IV
E. Honda
Ultra Street Fighter IV
El Fuerte
Ultra Street Fighter IV
El Fuerte
Ultra Street Fighter IV
Elena
Ultra Street Fighter IV
Elena
Ultra Street Fighter IV
Evil Ryu
Ultra Street Fighter IV
Evil Ryu
Ultra Street Fighter IV
Fei Long
Ultra Street Fighter IV
Fei Long
Ultra Street Fighter IV
Gen
Ultra Street Fighter IV
Gen
Ultra Street Fighter IV
Gouken
Ultra Street Fighter IV
Gouken
Ultra Street Fighter IV
Guile
Ultra Street Fighter IV
Guile
Ultra Street Fighter IV
Guy
Ultra Street Fighter IV
Guy
Ultra Street Fighter IV
Hakan
Ultra Street Fighter IV
Hakan
Ultra Street Fighter IV
Hugo
Ultra Street Fighter IV
Hugo
Ultra Street Fighter IV
Ibuki
Ultra Street Fighter IV
Ibuki
Ultra Street Fighter IV
Juri
Ultra Street Fighter IV
Juri
Ultra Street Fighter IV
Ken
Ultra Street Fighter IV
Ken
Ultra Street Fighter IV
M. Bison
Ultra Street Fighter IV
M. Bison
Ultra Street Fighter IV
Makoto
Ultra Street Fighter IV
Makoto
Ultra Street Fighter IV
Oni
Ultra Street Fighter IV
Oni
Ultra Street Fighter IV
Poison
Ultra Street Fighter IV
Poison
Ultra Street Fighter IV
Rolento
Ultra Street Fighter IV
Rolento
Ultra Street Fighter IV
Rose
Ultra Street Fighter IV
Rose
Ultra Street Fighter IV
Rufus
Ultra Street Fighter IV
Rufus
Ultra Street Fighter IV
Ryu
Ultra Street Fighter IV
Ryu
Ultra Street Fighter IV
Sagat
Ultra Street Fighter IV
Sagat
Ultra Street Fighter IV
Sakura
Ultra Street Fighter IV
Sakura
Ultra Street Fighter IV
Seth
Ultra Street Fighter IV
Seth
Ultra Street Fighter IV
T. Hawk
Ultra Street Fighter IV
T. Hawk
Ultra Street Fighter IV
Vega
Ultra Street Fighter IV
Vega
Ultra Street Fighter IV
Yang
Ultra Street Fighter IV
Yang
Ultra Street Fighter IV
Yun
Ultra Street Fighter IV
Yun
Ultra Street Fighter IV
Zangief
Ultra Street Fighter IV
Zangief
PlayStation Sounds: 3
Road & Track Presents: The Need for Speed
Announcer (English)
Road & Track Presents: The Need for Speed
Announcer (German)
Road & Track Presents: The Need for Speed
Sound Effects
PlayStation 2 Sounds: 85
Crash Twinsanity
Cutscenes
Ed, Edd n Eddy: The Mis-Edventures
Ambience
Ed, Edd n Eddy: The Mis-Edventures
Ed
Ed, Edd n Eddy: The Mis-Edventures
Edd
Ed, Edd n Eddy: The Mis-Edventures
Eddy
Ed, Edd n Eddy: The Mis-Edventures
Jimmy
Ed, Edd n Eddy: The Mis-Edventures
Jonny 2x4
Ed, Edd n Eddy: The Mis-Edventures
Kevin
Ed, Edd n Eddy: The Mis-Edventures
Lee Kanker
Ed, Edd n Eddy: The Mis-Edventures
Marie Kanker
Ed, Edd n Eddy: The Mis-Edventures
May Kanker
Ed, Edd n Eddy: The Mis-Edventures
Nazz
Ed, Edd n Eddy: The Mis-Edventures
Placeholders
Ed, Edd n Eddy: The Mis-Edventures
Rolf
Ed, Edd n Eddy: The Mis-Edventures
Sarah
Ed, Edd n Eddy: The Mis-Edventures
Sound Effects
The Fairly OddParents: Shadow Showdown
The Anti-Chamberlain (Shadow)
The Fairly OddParents: Shadow Showdown
The Anti-Chamberlain (Shadow)
The Fairly OddParents: Shadow Showdown
The Ape King
The Fairly OddParents: Shadow Showdown
The Ape King
The Fairly OddParents: Shadow Showdown
Ape Prisoner
The Fairly OddParents: Shadow Showdown
Apes
The Fairly OddParents: Shadow Showdown
The Chamberlain
The Fairly OddParents: Shadow Showdown
Cosmo
The Fairly OddParents: Shadow Showdown
Crimson Chin
The Fairly OddParents: Shadow Showdown
Crimson Chin
The Fairly OddParents: Shadow Showdown
Dairy Fairy's Cow
The Fairly OddParents: Shadow Showdown
Fairies
The Fairly OddParents: Shadow Showdown
Fairies
The Fairly OddParents: Shadow Showdown
Giant Robot
The Fairly OddParents: Shadow Showdown
Giant Robot
The Fairly OddParents: Shadow Showdown
H2Olga
The Fairly OddParents: Shadow Showdown
Jorgen Von Strangle
The Fairly OddParents: Shadow Showdown
King Oberon
The Fairly OddParents: Shadow Showdown
Lady Titania
The Fairly OddParents: Shadow Showdown
Mark Chang
The Fairly OddParents: Shadow Showdown
Mrs. Turner
The Fairly OddParents: Shadow Showdown
Other Sound Effects
The Fairly OddParents: Shadow Showdown
Quince the Unfunny Jester
The Fairly OddParents: Shadow Showdown
Quince the Unfunny Jester
The Fairly OddParents: Shadow Showdown
Talking Door
The Fairly OddParents: Shadow Showdown
Timmy Turner
The Fairly OddParents: Shadow Showdown
Timmy Turner
The Fairly OddParents: Shadow Showdown
Vicky
The Fairly OddParents: Shadow Showdown
Vicky
The Fairly OddParents: Shadow Showdown
Wanda
Ratatouille
Characters (English)
Serious Sam: Next Encounter
Sam "Serious" Stone
SSX 3
Crowd
SSX 3
In-Game
SSX 3
Mcomm
Zatch Bell!: Mamodo Battles
Albert (Wakened)'s Voice
Zatch Bell!: Mamodo Battles
Albert's Voice
Zatch Bell!: Mamodo Battles
Announcer (Default)
Zatch Bell!: Mamodo Battles
Announcer (Kanchomé)
Zatch Bell!: Mamodo Battles
Announcer (Tia)
Zatch Bell!: Mamodo Battles
Announcer (Victoream)
Zatch Bell!: Mamodo Battles
Announcer (Zatch)
Zatch Bell!: Mamodo Battles
Bari's Voice & Sound Effects
Zatch Bell!: Mamodo Battles
Brago's Voice & Sound Effects
Zatch Bell!: Mamodo Battles
Dr. Riddles' Voice
Zatch Bell!: Mamodo Battles
Dufort's Voice
Zatch Bell!: Mamodo Battles
General Sound Effects
Zatch Bell!: Mamodo Battles
Gustav's Voice
Zatch Bell!: Mamodo Battles
Kanchomé's Voice & Sound Effects
Zatch Bell!: Mamodo Battles
Kido's Voice & Sound Effects
Zatch Bell!: Mamodo Battles
Kiyo Takamine's Voice
Zatch Bell!: Mamodo Battles
Koko's Voice
Zatch Bell!: Mamodo Battles
Laila's Voice & Sound Effects
Zatch Bell!: Mamodo Battles
Li-en's Voice
Zatch Bell!: Mamodo Battles
Maestro's Voice & Sound Effects (Japanese)
Zatch Bell!: Mamodo Battles
Megumi's Voice
Zatch Bell!: Mamodo Battles
Menu Sound Effects
Zatch Bell!: Mamodo Battles
Menu Voices
Zatch Bell!: Mamodo Battles
Mohawk Ace's Voice
Zatch Bell!: Mamodo Battles
Parco Folgore's Voice
Zatch Bell!: Mamodo Battles
Ponygon's Voice & Sound Effects
Zatch Bell!: Mamodo Battles
Sherry's Voice
Zatch Bell!: Mamodo Battles
Story Sound Effects
Zatch Bell!: Mamodo Battles
Tia's Voice & Sound Effects
Zatch Bell!: Mamodo Battles
Victoream's Voice & Sound Effects
Zatch Bell!: Mamodo Battles
Wonrei's Voice & Sound Effects
Zatch Bell!: Mamodo Battles
Zatch's Voice & Sound Effects
Zatch Bell!: Mamodo Battles
Zeno's Voice & Sound Effects
Zatch Bell!: Mamodo Battles
Zofis' Voice & Sound Effects
PlayStation 3 Sounds: 11
The iDOLM@STER 2
Lesson Sounds
Puss In Boots
Bandits (English)
Puss In Boots
Haters (English)
Puss In Boots
Humpty Dumpty (English)
Puss In Boots
Jack (English)
Puss In Boots
Jill (English)
Puss In Boots
Kitty Softpaws (English)
Puss In Boots
Lover (English)
Puss In Boots
Multi-Characters (English)
Puss In Boots
Puss (English)
Puss In Boots
Unsorted (English)
PSP Sounds: 44
Ikki Tousen: Eloquent Fist
Chousen (Battle Voice)
Ikki Tousen: Eloquent Fist
Ekitoku Chouhi (Battle Voice)
Ikki Tousen: Eloquent Fist
Gentoku Ryuubi (Battle Voice)
Ikki Tousen: Eloquent Fist
Housen Ryofu (Battle Voice)
Ikki Tousen: Eloquent Fist
Kanpei (Battle Voice)
Ikki Tousen: Eloquent Fist
Myosai Kakouen (Battle Voice)
Ikki Tousen: Eloquent Fist
Saji Genpou (Battle Voice)
Ikki Tousen: Eloquent Fist
Secret Charakter Gentoku Ryuubi - Ryu Form (Battle Voice)
Ikki Tousen: Eloquent Fist
Secret Charakter Hakufu Sonsaku - Ryu Form (Battle Voice)
Ikki Tousen: Eloquent Fist
Secret Charakter Moutoku Sousou (Battle Voice)
Ikki Tousen: Eloquent Fist
Shimei Ryomou (Battle Voice)
Ikki Tousen: Eloquent Fist
Shiryuu Chouun (Battle Voice)
Ikki Tousen: Eloquent Fist
Shishi Ouin (Battle Voice)
Ikki Tousen: Eloquent Fist
Shokatsuryou Kuomei (Battle Voice)
Ikki Tousen: Eloquent Fist
Teni (Battle Voice)
Ikki Tousen: Eloquent Fist
Unchou Kan-u (Battle Voice)
Ikki Tousen: Eloquent Fist
Unplayable Charakter Chuutatsu Shibai (Battle Voice)
Ikki Tousen: Eloquent Fist
Unplayable Charakter Koukin Shuuyu (Battle Voice)
Kao Challengers
Ambience
Kao Challengers
Beaver (English)
Kao Challengers
Bossman (English)
Kao Challengers
Character Sound Effects
Kao Challengers
Engineer (English)
Kao Challengers
Firefly (English)
Kao Challengers
Firefly (French)
Kao Challengers
Firefly (German)
Kao Challengers
Firefly (Italian)
Kao Challengers
Firefly (Spanish)
Kao Challengers
Hunter (English)
Kao Challengers
Kao (English)
Kao Challengers
Level Sound Effects
Kao Challengers
Little-Bear (English)
Kao Challengers
Object & Power-Up Sound Effects
Kao Challengers
Octopus (English)
Kao Challengers
Other Sound Effects
Kao Challengers
Parrot (English)
Kao Challengers
Pelican (English)
Kao Challengers
Pirate (English)
Kao Challengers
Shaman (English)
Kao Challengers
Turtle (English)
Kao Challengers
Witch (English)
LocoRoco
Dadhi Dado Da (Lots of Flowers)
LocoRoco
Kuttetekaruna (Mojyas Everywhere!)
Skate Park City
Sound Effects
Xbox Sounds: 70
AMF Bowling 2004
Sound Effects
Cars
Activities
Cars
Ambience
Cars
Announcer
Cars
Barry
Cars
Boost
Cars
Chick Hicks
Cars
Cletus
Cars
Count Spatula
Cars
The Crippler
Cars
Crowd
Cars
Darrell Cartrip
Cars
DJ
Cars
Doc Hudson
Cars
El Guapo
Cars
Engines
Cars
Fillmore
Cars
Fletcher
Cars
Flo
Cars
Frank
Cars
Gerald
Cars
Ginormous
Cars
Guido
Cars
Impacts
Cars
Interface
Cars
The King
Cars
Lenny
Cars
Lightning McQueen
Cars
Lizzie
Cars
Luigi
Cars
Mack
Cars
Mater
Cars
Mia
Cars
Miscellaneous
Cars
Papo
Cars
Ramone
Cars
Sally Carrera
Cars
Sarge
Cars
Sheriff
Cars
Snot Rod
Cars
Sonny
Cars
Tia
Cars
Tommy Joe
Cars
Tourist - 70's Sedan
Cars
Tourist - Hatchback
Cars
Tourist - Minivan
Cars
Tourist - Motorhome
Cars
Tourist - Sedan
Cars
Tourist - Station Wagon
Cars
Tourist - SUV
Cars
Vince
Cars
Wingo
Cars
Zeke
Forza Motorsport
Car Engines (Exterior View)
Forza Motorsport
Car Engines (Interior View)
Forza Motorsport
Collisions
Forza Motorsport
Interface
Forza Motorsport
Tires
Forza Motorsport
Tracks
Mortal Kombat: Deadly Alliance
Endings
Mortal Kombat: Deadly Alliance
General Fight Sounds
Mortal Kombat: Deadly Alliance
Konquest
Mortal Kombat: Deadly Alliance
Menu
Mortal Kombat: Deception
Announcer
Pure Pinball
Announcer
Pure Pinball
General Sounds
Pure Pinball
Table 1
Pure Pinball
Table 2
Pure Pinball
Table 3
Pure Pinball
Table 4