The God of All Updates

(5)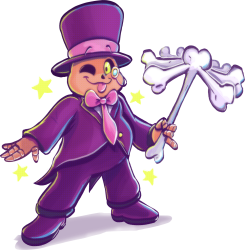 Well, here we are. Not only did last week's update break the record in TSoR's history, but today I bring you not only another break in the record, but the biggest update in VGR's history. Thanks to the efforts of Pingu, a new staff member by the name of Cooper B. Chance, and myself, we have cleared the sounds queue after
two years
. Over 2,000 submissions. 1,800 of them we sorted in the span of three days. With hard work and dedication, it's now clear and for once we're able to bring another update right away! And it's all thanks to the submitters. I'm gonna be Dazz/Petie for a minute and thank everyone who helped make these sites what they are today. This community literally saved my life as well as changed all of our lives and if it weren't for you guys, the site wouldn't exist. So thank you, on behalf of the entire staff team, from the bottoms of our hearts.
With all of that out of the way (whew, that was a lot of writing, and I still have more to go!), let's actually introduce some of the submissions! I'm not sure where to even start here, but we've got even more Smash Bros. Ultimate, Fire Emblem Heroes, Mario & Luigi: Bowser's Inside Story, iDOLM@STER, Dragon Ball, Crash Nitro Kart, Octopath Traveler, Pokkén Tournament and soooo much more. No really, it's not even funny how much content there is. It's truly incredible.
Now, it's time to finally enjoy not having any work to do (however long that lasts). With that, we'll see y'all next time, whenever that may be!